Teacher & Staff Resources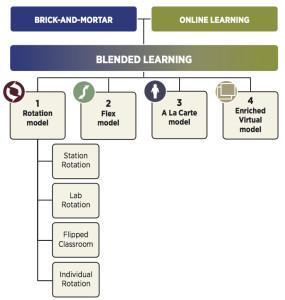 Blended Learning is the combination of both traditional brick-and-mortar and online instruction in which "teachers create multiple pathways for student success. Students have some element of control in the time, place, path, and/or pace of learning."
--International Association for K-12 Online Learning (iNACOL)
Rotation Model (includes Station Rotation, Lab Rotation, Flipped Classroom, and Individual Classroom)
Flex Model
A La Carte Model
Enriched Virtual Model
For a full overview of blended learning basics and models, visit the Blended Learning Universe.
This feature is only available to Teachers/Staff, Middle School, and High School students.
Please submit a Helpdesk Ticket for Elementary student password changes.
Log into an NKSD desktop computer.

Press Ctrl + Alt + Delete at the same time.

Choose Change A Password.

In the next window, enter your old password (current) once and then your new password twice.
NOTE: This will change your password for your Google account and all NKSD desktop computers.
Would you like help integrating technology into your classroom or area of specialization?
Please complete this form to sign up to work with Technology Coach, Kim Ramos. Coaching can be Short-term (1-3 sessions, focused on a particular topic/tool), Longer-term (several classroom and/or planning sessions over a few weeks, focused on broader goals), or Monthly 1:1 Check-ins (flexible schedule, you choose the topics).
All are welcome! Coaching is not limited to classroom teachers and can be adapted for your particular role.
Frontline PLU Instructions
The North Kingstown School Dept. has contracted with Frontline to provide employees with a method of keeping track of the Professional Learning Units (PLUs) required for recertification. Click each link to access the directions. If you have trouble logging into mylearningplan.com, please contact sherri-lynn_briggs@nksd.net.
Navigating Frontline PLUs Slide Deck
How to Get PLU Credit for District Catalog Activities
These step-by-step directions show you how to sign up for activities that are listed in the District Catalog.
This PLU Request form is for educators who want to receive credit for PLU work that does not require payment or a substitute. Acceptable activities can include but are not limited to CPT work, data meetings, faculty meeting work, free webinars, etc. that are not already listed in the District Catalog.
Out-of-District Workshop/Conference Request Form Directions
This Out-of-District Workshop/Conference Request form is for educators who would like to attend an off-campus workshop or conference that requires payment or a substitute and is not already listed in the District Catalog.
How to Enter PLUs No Longer Listed in District Catalog
All District Catalog activities stop showing after June 30th of every school year. If you want to receive credit for last year's activities, please follow these steps.
Google Apps & Other Digital Tools
Secure Your Google Account
"Privacy can be a complex, intimidating topic but there are some steps any teacher can take to better protect their students' data when using online tools. Make these simple privacy and security checks a habit whenever you visit a website or use it with your students."
The Common Sense Privacy Program is a coordinated effort to evaluate edtech tools, protect child and student privacy, and build in safety and security from the start. It helps clarify privacy policies so that parents and teachers can make smart choices about the learning tools they use.
This graphic combines Dr. Ruben Puentedura's SAMR model with Bloom's Taxonomy. It starts with simple substitution (ex. exchanging pencil & paper writing for typing) at the bottom and progresses to redefinition (ex. students collaborating to create multimedia videos) at the top of the ladder. The bottom rungs show how technology enhances learning, whereas the top rungs show how technology transforms it.
"Most educators are familiar with Bloom's Taxonomy... This updated version aims to expand upon the skills associated with each level as technology becomes a more ingrained – and essential - part of learning."
-- CommonSenseMedia.org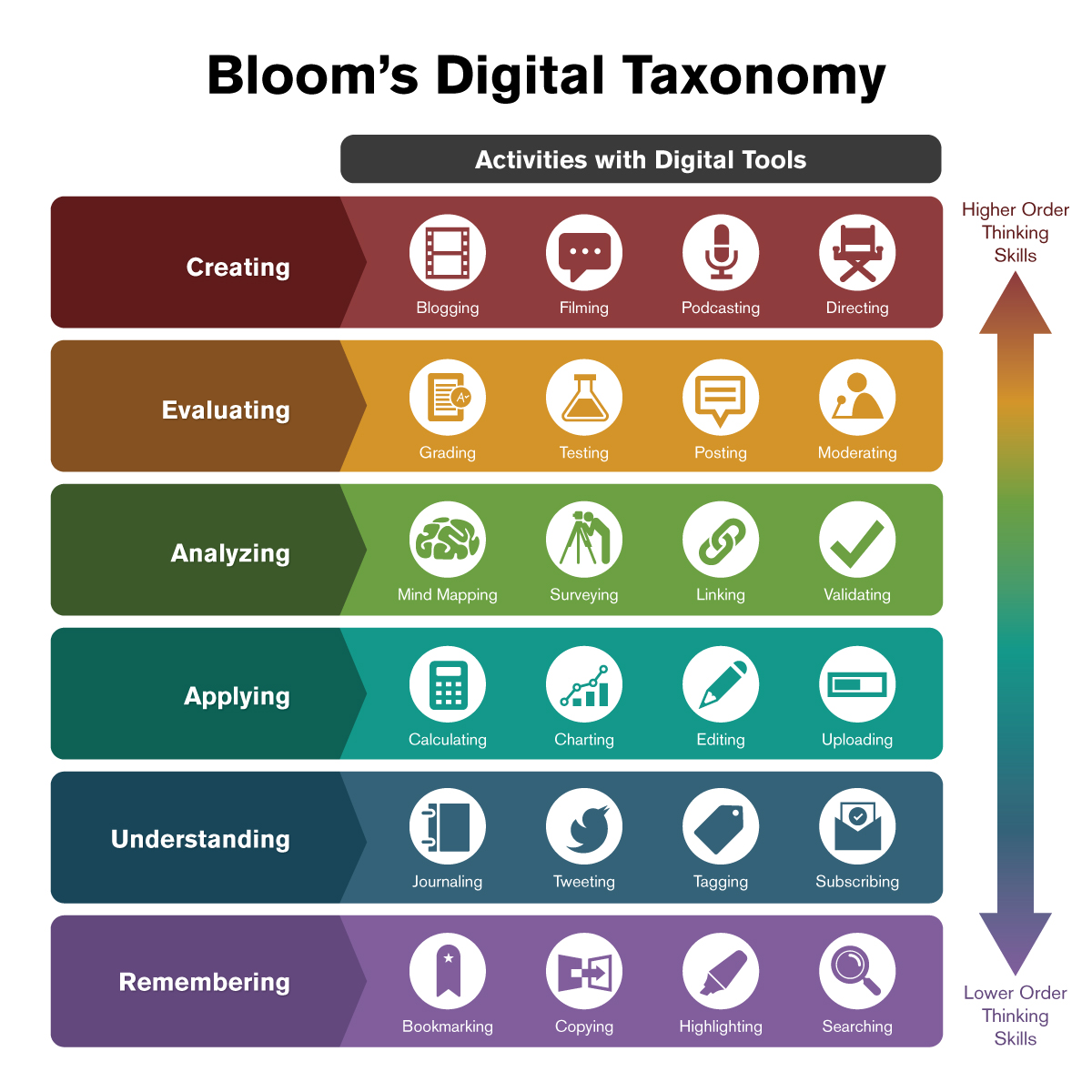 Technological Pedagogical Content Knowledge (TPACK) is a framework that identifies the knowledge teachers need to teach effectively with technology. This model visualizes the interplay between Technological Knowledge, Pedagogical Knowledge (teaching skills), and Content Knowledge. It also emphasizes the new kinds of knowledge that lie at the intersections between them.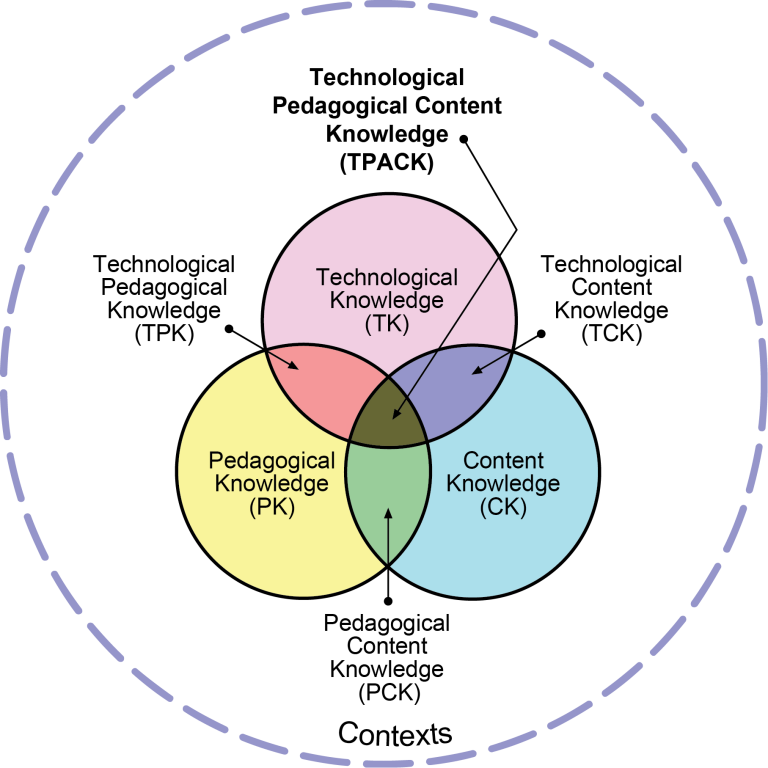 These are the Tech Tools & Resources highlighted on the 2018 NK Blended Learning Summit website. Each features a link to the tool/resource, a brief description, and a video tutorial link.