NKSD Distance Learning Family Information & Resources
Starting on Monday, March 23, students and parents began to receive detailed information from principals and teachers about each student's expectations for engaging in Distance Learning. Students will participate with their teachers via remote and on-line instruction which will include the use of a variety of resources including video lessons and use of the educational software the district already utilizes. Teachers will be in contact daily with instruction and "office hours" time in which students are invited to ask questions and seek assistance with their learning. Additionally, many of our teachers, guidance counselors, and support staff will be available to you and will be actively reaching out to students and families to lend their support in any way we can and to help you stay engaged and productive with your learning.
I want you to know that I have been truly impressed with the expertise of our NKSD educators and proud of their team spirit and selfless response to this crisis. Please know that they, too, are affected by the responsibilities of social distancing and will have family responsibilities and child care issues to balance with their work. This will be a new experience for us all, and I ask in advance that we all be patient with one another. I am confident that while our distance learning plans will not be the same as our regular in-school program, this format will provide rich learning experiences and will keep our students engaged in meaningful learning when they most need it.
Phil Auger
NKSD Superintendent
To keep up to date with district communications please download the NKSD app.
You can download the app for free on both Google Play or the Apple App Store.
Download for Android: http://bit.ly/2P9Wzd5

Download for iPhone: https://apple.co/2P5nHtr
If you need technical assistance there are two ways in which you can reach us.
1. If you have a working device you can complete this form
2. You can call 401-398-8100. If you are calling the phone number please listen very carefully and select the best option to avoid a delay in your response.
Press 1 if you need a device

Press 2 if you have a device that has physical damage

Press 3 if you are a staff member needing assistance with Chromebook applications and digital tools

Press 4 if you are an elementary, Davisville Middle School or Davisville Academy family needing assistance with Chromebook programs

Press 5 if you are a Wickford Middle School or North Kingstown High School family needing assistance with Chromebook programs

Press 6 for all other questions
Please check the FAQ section to see if there is a resolution to your problem.
On April 20th the Governor also announced the Highlander Institute is also setting up a Distance Learning Hotline - Teachers, parents, and guardians can call the Helpline at 904-414-4927 or fill out the online form at http://highlanderinstitute.org/distance-learning-helpline/ to get their distance learning questions answered.
I'm a parent and new to Google Classroom, how do I use it?
The Parents' Guide to Google Classroom
Our wifi is too slow for all this remote learning/working, what can we do?
Consider doing a cable modem/router reboot every week or even every few days; many consumer-grade wifi routers have inherent software bugs that cause them to degrade over time and rebooting is the only way to restore them to full capacity. Be sure to reboot the Chromebook after rebooting the modem/router.
**Also, be mindful that much of the country/world is working/learning remotely which puts a high demand on many web-based platforms**
My child's Chromebook is frozen, what do I do? Try holding the power button down for 10 seconds to completely shut down the Chromebook. Then restart.
Can my child use another computer in the house instead of their Chromebook? Yes, if they are having trouble with their Chromebook, they can use any other computer with access to the internet. They just need to log in to their Google account.
We don't have wifi. Are there any public hotspots we can use? Yes, Cox has public hot spots in several locations around town. Here is the map with instructions for connecting.
My login screen is asking for a QR code, but I do not have one. What do I do?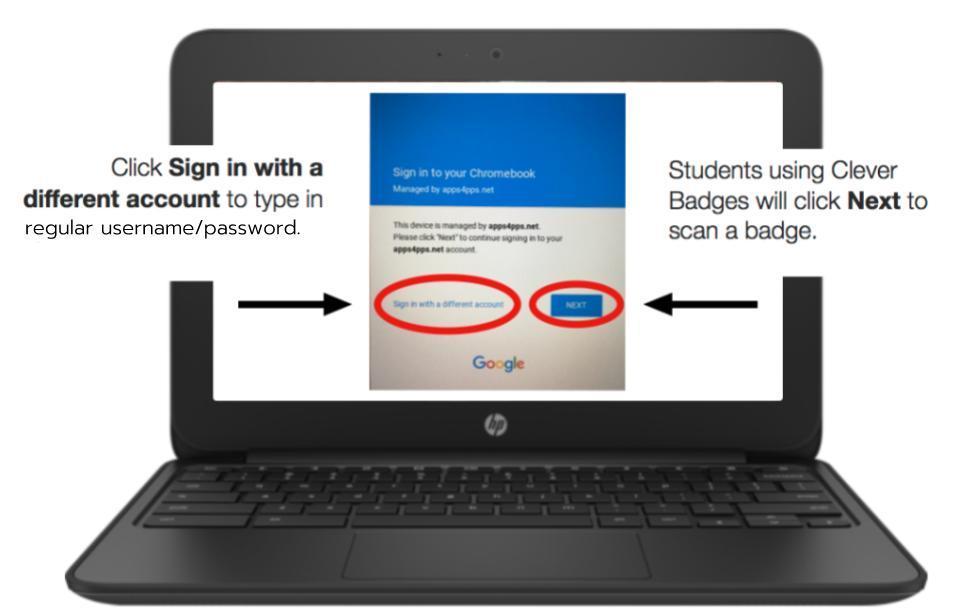 My camera isn't working when I use Google Meet.